DrupalCon Seattle: A Business/Product Owner's View of the Drupal Community
Illustration: DSGa at DrupalCon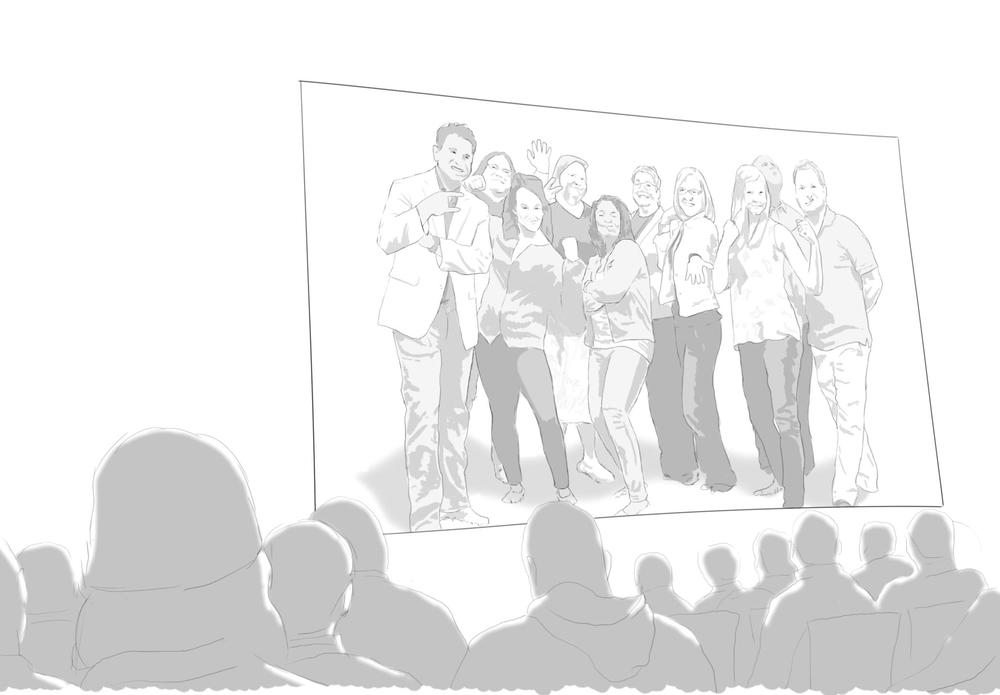 Thousands of Drupalists attended DrupalCon North America in Seattle, WA. There was a buzz among attendees that this was by far the best DrupalCon. Considered the largest attendance for a DrupalCon in history, the conference constituted individuals active in the Drupal community, hosting solutions providers, implementation shops, Drupal customers, and several others who are new to Drupal or planning their first Drupal project.
DrupalCon Seattle Sky view
Per Dries Buytaert, Drupal's creator, one out of 30 websites is created with Drupal and every month roughly 7,000 websites launch using Drupal 8. Drupal's reach is now in the billions. Over 1,000 organizations and about 10,000 individuals contribute to Drupal.
The state of Georgia implemented Drupal in 2011 and was the first state to adopt open source at an enterprise level. Back in the day, open source was not as widely accepted as it is today and it took me a ton of effort to convince leadership to take this leap. I am not a Drupal developer or someone, back then, who had vested interest in our state moving to Drupal. After a thorough analysis of CMS options, it just seemed the right thing to do as the digital product owner and program manager. Ever since, DrupalCon has been a venue that helps me renew my conviction in the decision to move to Drupal. The three pillars of Drupal that help me with the assurance are:
Drupal as a product
Leadership of product and the community
Contributions to the product
The State of Drupal
Every year as tradition, Dries kicks off DrupalCon with a State of Drupal keynote, also fondly known within the community as Driesnote. Thousands of eager eyes and ears tune in to what Dries says and does not say. This year Dries covered a myriad of topics, from diversity and inclusion, to product direction, growing footprint, roadmap, upcoming features, and community contributions.
I am sharing what resonated with me the most and some technical information which will help our state agencies understand how they will benefit from upgrading to Drupal 8.
Strength Through Inclusion
What made this DrupalCon special for me was to see Dries addressing the key topic of diversity and inclusion. Per the Bureau of Labor Statistics, GitHub, diversity in open source is much worse than diversity in the technology sector. Five percent of programmers in open source are non-male and 16% programmers are not white. Dries identified free time as a primary constraint. Underrepresented groups don't have the same amount of "free time" to contribute to open source due to inequalities in domestic labor, wage gaps, etc. Free time to contributing is a privilege and not everyone has the time. It was heartening to see Dries' leadership in stating that diversity and inclusion is essential to the health and success of Drupal.
Just as the consumer confidence index is an economic indicator, seeing the Drupal community unified behind a strong product and an inclusive culture, sent a confident message to business and product owners like me.
To Drupal 8 and Beyond
The Drupal community will support Drupal 7 for another 2 years and 10 months. Business/product owners who wonder if it's prudent to invest in Drupal 8 or migrate directly to Drupal 9, targeted to launch in June 2020 should plan on migrating to D8. As Dries visually explains the upgrade roadmap, upgrading from Drupal 6 to 7 to 8 is literally like switching rail tracks. But 8 to 9 will be just like a dot upgrade. This was welcome news to a lot of us!
Drupal 8 Roadmap
For large sites or enterprise platforms like ours, upgrading from Drupal 7 to Drupal 8 was as daunting as moving from Drupal to another CMS. But the benefits outweigh the challenges. Drupal 8 empowered us to build a digital platform to serve life critical content to Georgians beyond the web.
Dries Features Georgia's Drupal 8 Platform
Dries featured Georgia's move to Drupal 8 as a success story. It was an honor for me to be featured in Driesnote and share our story with the community.
DrupalCon Seattle: A business/product owner's view of the Drupal community - Video
Georgia's D7 platform hosts 110 websites amounting to 170 million page views, 65 million sessions, and 40 million visits. A total of 960 content creators use this platform to manage 75,000-80,000 content items. When we decided to upgrade our platform to serve the changing user behavior and multi-channel consumption, we also wanted to contribute back to the community. We benefit from others contributions and it was critical for us to do our part as we develop our omni-channel platform.
In 2018, when Digital Services Georgia decided to migrate to Drupal 8, we requested bids from Drupal development partners and the response was overwhelming. To make sure we selected partners that not only excel in Drupal development but also share our culture, we set strict selection criteria. In addition to an impressive portfolio of building accessible, responsive, secure, and performant sites, we wanted to verify their contribution history. As one of the selection criterion, we scored our development partners on their contributions back to the community.
I sincerely urge all business owners to evaluate prospective development partners' contributions to the community. Contributions are critical and a true indicator that they know their game! Along with skills, rate cards, and timelines, community contributions should be a key weighing factor. Digital Services Georgia selected Lullabot as prime, along with Mediacurrent, Palantir.net, and CivicActions as development partners.
What Stuck With Me the Most About Drupal 8.7
Drupal 8.7 focuses on a better editorial experience. For all of us who wished Drupal 7's administrative experience could have been better, Drupal 8.7 will offer just that. The community has prioritized editorial experience by focusing on workflow, layout, media, and administration UI.
Our content creators have always complained that Drupal 7 is not as intuitive and easy as WordPress or other modern CMS. By making Drupal easy for site builders and content creators, Dries mentioned, "It's no longer enough to win the hearts and minds of developers. We need to win the hearts of marketers, content creators, and anyone else spending eight hours or more in Drupal each day."
Layout Builder is stable in 8.7. Another big enhancement is the Layout Builder, which enables one-off page layouts, layout workflows, and templated layouts. This opens a lot of options and possibilities which most content creators craved for in Drupal 7. The leading reason content creators decided to give up structured content types and resort to site pages was the limitation of designing page layouts. Layout builder not only empowers content creators to create choice layouts, but is accessible responding to 100% keyboard navigation. This announcement was cheered with a loud applause, showing the community's regard for accessibility and users with limited abilities.
(For all the remaining pieces, read Dries' post State of Drupal presentation (April 2019).)
The United States of Drupal
DrupalCon is always a great opportunity to meet my digital services peers from other states. Digital and tech teams from North Carolina, Massachusetts, California, Arizona, Texas met for a "Birds of a Feather" session to discuss common content models and data solutions. Even 90 minutes wasn't enough to merely scratch the surface of the mammoth issues we deal with.
State gov Drupal teams: join @MassGovDigital, @GeorgiaGovTeam, NC Digital Solutions, and others for a Birds of a Feather session on state collab opportunities starting with common content types/data models. Wed,4:45PM, BoF 5. See you there! #DrupalCon pic.twitter.com/tKuTECZ6ka

— Billy Hylton (@publicrealm) April 10, 2019
We may be different states in geography, population count, and local challenges but we come together to rally behind a single product and find solutions to common problems. We discuss several aspects of Drupal, sometimes past midnight, and walk away energized. We learn from each other, enjoy the time together, share goodbye hugs, and promise to do the same next year.
Did you find what you were looking for on this page?