July 25, 2017
Stop Preaching, Start Supporting
Illustration: Providing Support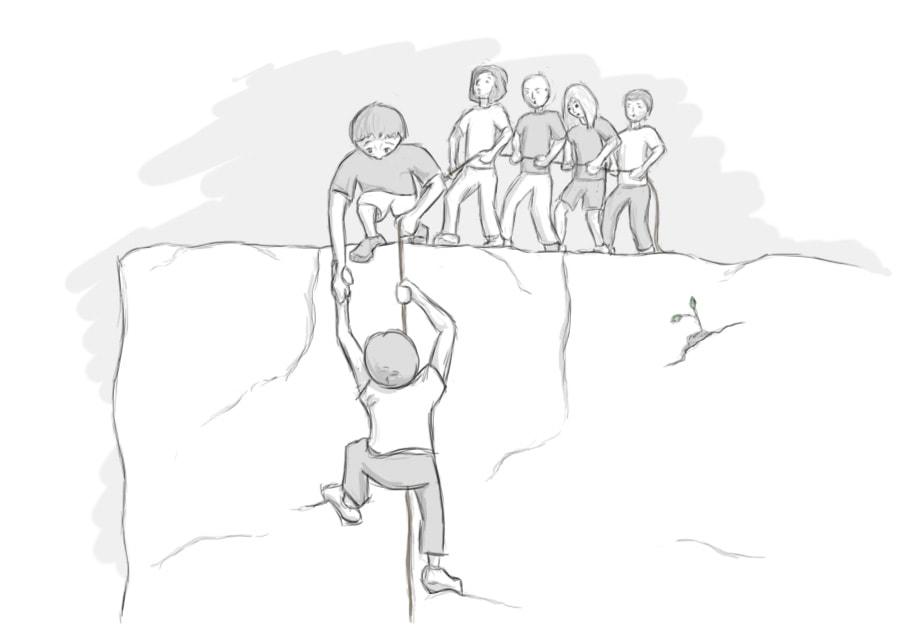 What is technical support? Do you cringe when you hear those words because they remind you of a bad experience? If so, what made it bad?
Support is there to fix a problem or offer a solution when something goes wrong or doesn't work as expected. As our support processes have evolved, we've seen the benefits of support as a collaborative team effort rather than one person's responsibility. Tickets resolve faster, we learn more about our platform, and team members get a better picture of our customers.
But your support process can't remain the same through the ages. As our product evolves and technology gives us more ways to interface with customers, we have to adapt our support process to meet customers where they are — in a convenient, fast way.
As we wrapped up FY 2017 and with our move to Drupal 8 in the coming years, we took a look at our support process to identify how we could improve. During that time, we cut out what didn't work, started new processes, and published answers to common questions within easy reach.
Out with the Old, In with the New
Our goal was to examine what current practices were in place and find ways to improve. The problem with the old support model affected both our team and our users. Each struggled with particular tasks, creating a frustrating experience for customers already coming to us with questions.
Problems with Our Old System
The biggest support pitfalls we found were:
Poor Communication Channels
Communication between the user and the Support Lead depended solely on email. Although email seems convenient, it can quickly become overwhelming, and it's easy to see how anyone might overlook or lose track of support tickets. Even urgent requests could go unseen for a couple of hours in a flooded inbox.
No System for Prioritizing Tickets
When new tickets arrived, they were weighed equally. We had no way to prioritize support tickets unless we copied them into a different system, further complicating an already tedious process. For example, a ticket for missing CSS code displayed just as important as a ticket about resetting a user's password.
Collaboration Problems
Collaboration between customers and the Support Lead, or the Support Lead and internal team members was nearly impossible. Support is most beneficial with team collaboration in order to find the best solution.
Non-Existent Public Knowledgebase
Without a public, searchable knowledgebase, the only options our users had were to search through a PDF or open a support ticket. Why not help customers answer their own questions without waiting for support?
Once we identified the problem, a solution was possible.
Refreshing Our Processes
We know that change is hard, and often it's harder when it involves technology. We knew our solution had to be intuitive, transparent, and collaborative. We chose a system that was easy to use and had built-in workflows for the customer and the Support Lead. The image below shows how simple it is to respond to tickets tasks and interface with customers.
Service Desk Options
But how easy is the customer's interface? Once a user creates an account and opens a support request, they no longer need the interface … if they don't want it. Users can reply to emails and a matching comment automatically appears in Support Desk.
For social media users, Support Desk will feel very familiar; They can post their comments in the ticket and immediately see icons that read, "waiting for support" or "waiting for customer." They can like articles and post valuable feedback for the Support Team.
Service Desk - Positive Responses
Want to see it in action? Just start typing in the search bar and if an answer is in the database, it will find you! As users begin typing in keywords related to their question, suggestions autopopulate below. Not only does it reduce the number of support tickets and empower users, it also reduces frustration and wait time to common questions. Now users can help themselves, learn more our platform, and do their jobs better and faster.
No more waiting on emails (unless that's your preferred method). We've tied notifications to a team-wide Slack channel, improving collaboration. The entire team is notified when a support request comes so the right people can quickly share their expertise.
More to Come!
Now that we have a new support process in place, powered by an amazing knowledge database, where do we go from here?
As we continue to evaluate how to better serve our customers, we have changed support ownership. Because we believe a collaborative effort best serves support, each team member will be responsible for responding to support tickets for a 2-week period. The new process takes pressure off one person and empowers each of us to better understand the intricacies of the platform and the frustrations and pain points our customers deal with daily.
From here, we'll watch the analytics process to see what's working and what we can do better for our users. Now that a better system is in place, we get to raise the bar and make it even better!
A simple Support Desk powered by a robust database and customer feedback is just the beginning! Web Content is what we do even if it's not what our customers do! We recognize that many people inherit web editor roles and how overwhelming it can be to learn a new system that's outside their area of expertise. We are here to help users find the answers they need as quickly and efficiently as possible while providing tips and tricks to reach "Super User Status." Can we wave a magic wand and make all their dreams come true? Well, maybe not yet, but who knows what's possible when amazing minds come together!
Related to:
Did you find what you were looking for on this page?