All Basic Training is Now On Demand
LMS Catalog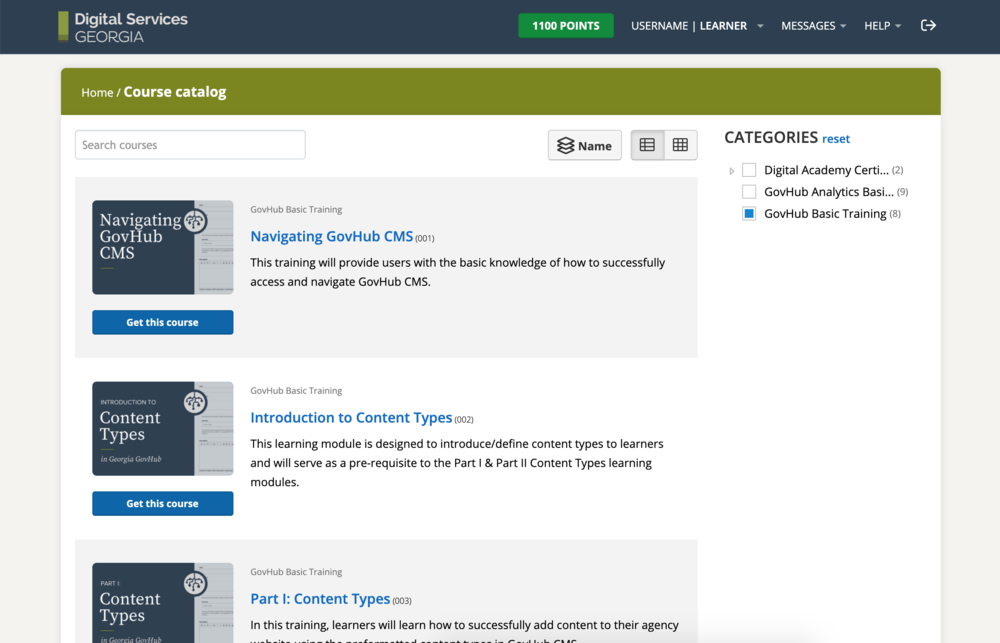 We're excited to announce a new course in our learning management system (LMS): GovHub Analytics (Siteimprove) Basic Training. This is in addition to the GovHub Basic Training already available and is part of our effort to improve the learning experience by having classes online and on demand. Our training program continues to grow to meet you where and when you're able to take courses.
Through the LMS, we want to equip you with the skills needed to use robust features in GovHub and GovHub Analytics. You're able to track progress by evaluating your own knowledge gaps and give us feedback on where we can help you close those gaps. There's also a skills assessment to ensure a level of competency that can help reduce frustrations and provide a better user experience in GovHub.
New content managers are required to take the basic training courses before gaining access to GovHub and GovHub Analytics. If you already have access to your site as an existing content manager, you can request access to the LMS through our service desk.
With GovHub Basic Training, you'll learn how to navigate the content management system, get an overview of all the content types, walk through creating some of the most common content, and understand how to manage documents. 
In GovHub Analytics Basic Training, you'll learn how to navigate the Siteimprove tool, get an overview of the quality assurance & accessibility modules, learn how to fix common issues like broken links and misspellings, and understand some key metrics to track in the analytics module. 
Did you find what you were looking for on this page?