October 12, 2017
State of Georgia Launches Its First Alexa Skill: Ask GeorgiaGov
Illustration: Amazon Echo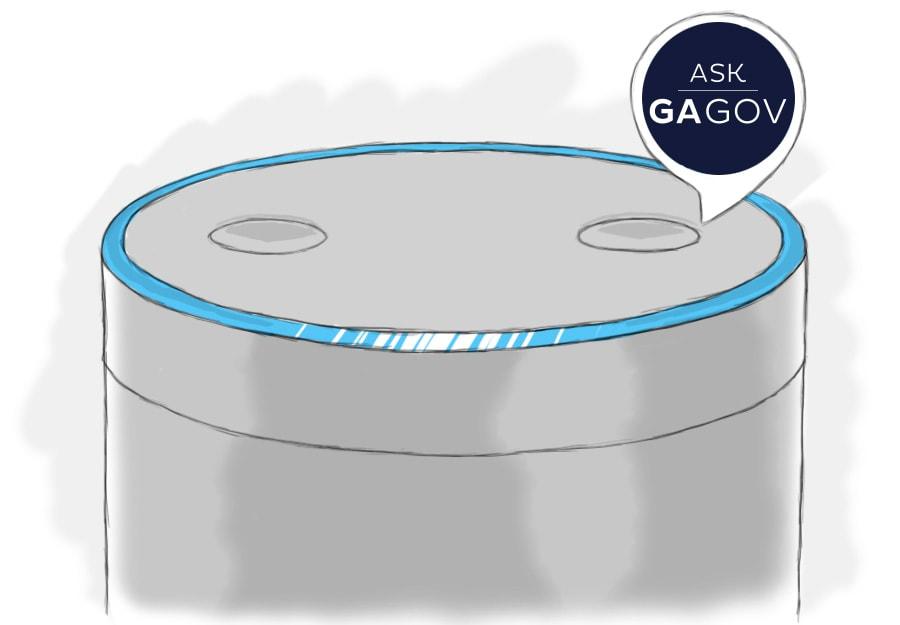 Digital Services Georgia aims to create a better experience for people looking for state information and services. Through technology and design we can lessen the friction people encounter when interacting with government services. This extends far beyond our previous focus of websites. To fulfill this mission, we need to skate to where the puck is going to be, rather than follow it around the ice.
After we made our web publishing platform accessible, we learned that a large segment of users who struggle with a range of disabilities, such as decreased vision and motor skills, rely on digital assistants for information. When assistants vocally respond to questions, they save users the trouble of navigating content structures, screen readers, and compatibility challenges to get to the needed information.
To address this need, over the last few months we have been working hard with our development partners at Acquia Labs to publish Ask GeorgiaGov, an Alexa skill. Anyone with an Amazon Echo, Echo Dot, or Alexa on their tablet can now ask several Georgia state service related questions like how to renew your driver's license or get a fishing permit.
For those who are still catching up to conversational interfaces, Alexa is a voice-first digital assistant offered by Amazon. A voice-first device is an active listening smart hardware where the interaction is based on voice, both input and output.
My project kickoff post dives deeper into the technology, how and why this project came about.
Are We There Yet?
When we were exploring the idea to offer state information via conversational interfaces, we wondered about the adoption footprint for digital assistants. 2016 was an infant phase for digital assistants and conversational interfaces. 2017 seemed assuring when Voice Labs released adoption stats through their annual report early in 2017. In its 2017 Voice Report, Voice Labs predicted 24.5 million voice-first devices will ship this year — up from 6.5 million in 2016 and 1.7 million in 2015 — boosting the total in circulation to 33 million. Seeing the exponential surge of digital assistants, with Amazon Alexa as the predominant leader, it is not surprising the Amazon application directory lists more than 22K skills to date.
Voice-First Device Footprint
Alexa Is Just a Messenger; Content Is Still the King.
Digital Services Georgia (DSGa) has always been an advocate of an omni-channel approach to information and service delivery. This means regardless of the channel through which people are accessing information, we need to provide them accurate and consistent content without duplicating efforts. Be it a website or a social media outlet, whether using a mobile device, computer, or voice assistant, the content should be served from a single source of truth further syndicating to additional channels. This project was a testament to this approach.
The Georgia.gov website has an intent-based information architecture, as opposed to a traditional website structure of an organizational sitemap. When people visit Georgia.gov, they have a defined goal, a set purpose for why they are visiting. If the content is structured to meet their goals, the experience is delightful.
Our content team curated the top 50 topics users seek from our state government, and converted the information to intent-based content in the form of Popular Topics. Popular Topics are what people search for from search engines or click when they visit Georgia.gov. Our goal was to keep content on all the topic pages consistent and deliver that information on both the web pages and to digital assistants simultaneously.
Usability testing made us realize that the content we had slimmed down to make web friendly was still too verbose for an auditory experience. The contrast between scanning or reading visual content and listening to the same content being read out to us became apparent. The visual recognition for links makes it easy for readers to spot and click but for voice interaction, they posed a challenge. Our content team worked hard with Acquia Labs to address all the issues inherited by content created for web pages. This shined a light on the need for an omnichannel content strategy.
State of Georgia launches its first Alexa Skill: Ask GeorgiaGov - Video
Our Pledge to Support Open Source
Georgia, along with Utah and Mississippi, is one of the three trailblazer states in the nation to offer a digital assistant. Ask GeorgiaGov is different from the other two because this Alexa skill hooks dynamic content drawn from Georgia.gov, a website built using the open source Drupal 7 framework. Acquia Labs built a custom Drupal module on Georgia.gov that works with a Drupal 7 backport of the open source Alexa module developed to connect Drupal and Amazon Alexa.
We are proud to be leading and collaborating open source innovation to make this happen using open source products like Drupal and Solr. By sponsoring a Drupal 7 backport, we pave the way for others to offer a similar experience to their users and constituents, meeting our intention to contribute back to the community.
Futurism Meets Inclusion
Making our content available via new channels like Amazon's Alexa is an important next step for us. Conversational interfaces are accessible by nature, providing another avenue for people with vision impairments or mobility limitations to interact. It is very important for us to keep in mind that while we set on this futuristic pursuit, we are doing so in a way that includes all Georgians.
Digital Services Georgia always looks forward to enriching our constituents' experience in accessing state government information. This project, though enabled just for the Georgia.gov flagship website, is a perfect testing ground to explore what we can accomplish in making existing information conversational. We hope to extend this to other agencies so that citizens, regardless of their abilities, can access even more state service information in their own way.
Just as the touch interfaces changed interaction with visual content, we hope to offer the same level of ease to non-screen devices, extending our commitment to providing interaction without any barriers.
(Digital Services Georgia was formerly known as GeorgiaGov Interactive. It is an office within the Georgia Technology Authority).
Related to:
Did you find what you were looking for on this page?