New Challenges of Content: Your Opportunity
Digital transformation, disruption, and acceleration. Oh my. The life of a digital professional today is anything but boring or slow. In these tumultuous times, I'm excited to collaborate with Digital Services Georgia (DSGa) on an article series about a crucial digital element: content. As you face unprecedented content demand, a proliferation of delivery channels, and a groundswell of misinformation, your digital success depends on getting content right. This article series is here to help by bringing together insight from DSGa and research from Content Science.
This first article examines why state agencies are experiencing content-specific challenges and how to start handling them. But let's begin at the beginning, a definition of content.
What Is Content?
Content is a term that everyone thinks they understand. And most people have a good sense of what content is. The problem is most people also make assumptions that can lead to confusing conversations. For instance, I often encounter the myth that content is copy. So let's get on the same page. Content is the substance of a digital experience — the text, photos, diagrams, video, documents, navigation labels, and other assets. More specifically in a transactional interface (like a form to do a task), content is the microcopy, the labels, the contextual help, the task or product tour, the error messages, the confirmation messages, and more. 
If content sounds important, that's because it is. You cannot overstate the value of content to the success of your digital users. Content is your state agency's main way of communicating and engaging with people. Citizens, policymakers, reporters, partners, and more interact with your agency's content as they make decisions and complete tasks. 
With that view of content in mind, let's turn to three trends that are driving new content challenges right now.
Why Do State Agencies Face New Content Challenges?
To say that digital disruption accelerated in 2020 is like saying The Mandalorian's armor is strong. It's a huge understatement. For some background on digital disruption, check out this book excerpt or this article. My point here is the blistering pace of digital disruption has many implications, including these three trends.
1. More People Are Interacting With Your Digital Presence More Often
The pandemic last year forced people around the world to work, live, and play digitally. And that trend isn't stopping. For example, Georgia's Department of Driver Services (DDS) website experienced a huge increase in the number of sessions.
DDS Website increase

More digital interaction means higher demand for effective content from your agency. Sometimes this demand means more content to support more decisions and tasks, and sometimes this demand means better content.
2. More People Are Using More Digital Channels
The use of channels like smart phones and social media was already on the upswing. Smart home devices, voice activated search, and chat bots are becoming the norm for more and more people. 
MediaPost has found 69% of U.S. households have at least one smart home device.
Pew Research has found roughly 1 in 5 U.S. adults are "smart phone-only" Internet users.
For more facts about content channels and consumption, see these 50 Crucial Content Facts.
The more people use a variety of channels, the more they will expect your agency to use them, too. And that means figuring out how to deliver the right content through the right channel in the right context.
3. You Face Content Competition 
As a state agency, you might not think of your website or digital experience as competing with ... anything. The fact is, your content is competing for your users' attention. Your content likely competes on topics covered by traditional media, social media influencers, nonprofit organizations, individual blogs, or more. For instance, 4 million blog posts are published every day, according to Worldometer.
And, now, your content is competing with misinformation ranging from deep fakes to false ads to scams to rogue social media bot comments and posts. 
Complaints of fraud and scams to the FTC and media like Consumer Reports skyrocketed in 2020.
Fact checking organizations like Snopes, Newsguard, and Politifact have been overwhelmed since spring 2020 with rumors, myths, and conspiracy theories spread on websites, social media, and some traditional media.
U.S. intelligence officials have identified attacks on trust and truth as a top threat for several years, such as in the 2019 Worldwide Threat Assessment and in this 2020 feature in Politico.
Pew Research has found nearly two in three American adults (64%) say fabricated news stories cause a lot of confusion when it comes to the basic facts of current news and events.
This competition has far-reaching implications, from the visibility of your content in Google search results to the trust users have in your content. But, the real challenge comes down to this: Your digital users face a lot of noise. How will your content — content with critical guidance about consequential topics ranging from health to unemployment to licensing to taxes — emerge as the authority?
How Can State Agencies Turn These Challenges into an Opportunity?
These modern content challenges to your agency's digital success demand a modern content approach.  The good news is we know what success looks like. From 2015 through the present, Content Science conducted research into what makes organizations, including government agencies, successful with content. Though the challenges have changed in that time, the factors in successfully overcoming challenges hasn't. 
Top Factors in Content Success
Organizations that report the most success with content have these factors in common:
A vision for content that is actively supported and communicated well by leadership 
A clearly documented content strategy informed by analysis
A way to regularly evaluate the impact or success of content
A budget for content work or efforts
A set of defined roles and processes for content
Content-specific training resources
Effective use of content technology and tools
Conversely, the top problems content and digital professionals report are all symptoms of not addressing the above success factors. 
Top Problem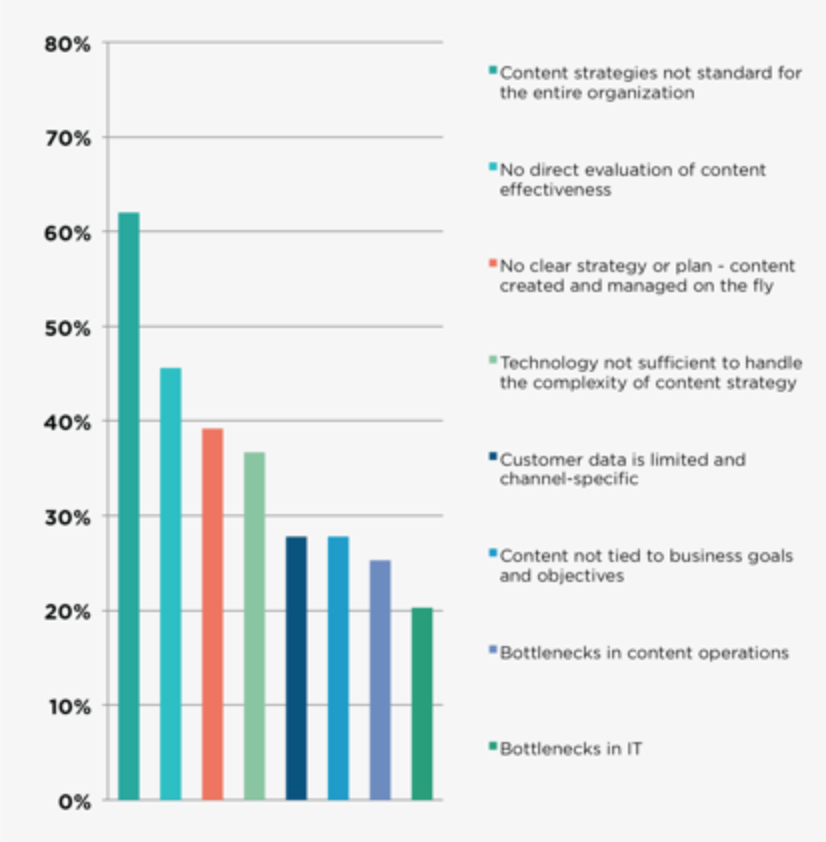 The top obstacles content professionals reported to being successful relate to a lack of content strategy, evaluation/data, and operations. (Source: The Content Advantage)
So, the question is not whether an organization like a state agency can know what makes content work. We know what works. The question is whether an organization is enabled to act on what works instead of repeating what doesn't. 
And that's where the next two articles in this series come in. I will explain how to develop a contemporary and comprehensive content strategy using tools and techniques available to you today. I also will walk through key elements of making a content strategy operational. It's time to let go of outdated content approaches and embrace a new content era. It's time to become a content-enabled organization.
What Challenge Will Be Your Opportunity?
In the meantime, take a moment to reflect on your agency's content potential. What is the biggest obstacle your agency faces in reaching that potential? Can you start to see a path toward overcoming it? How does it feel to know you're not alone? As The Mandalorian might say, "This is the way" — the start of a journey toward content enablement.
Did you find what you were looking for on this page?