Illustration: Building Together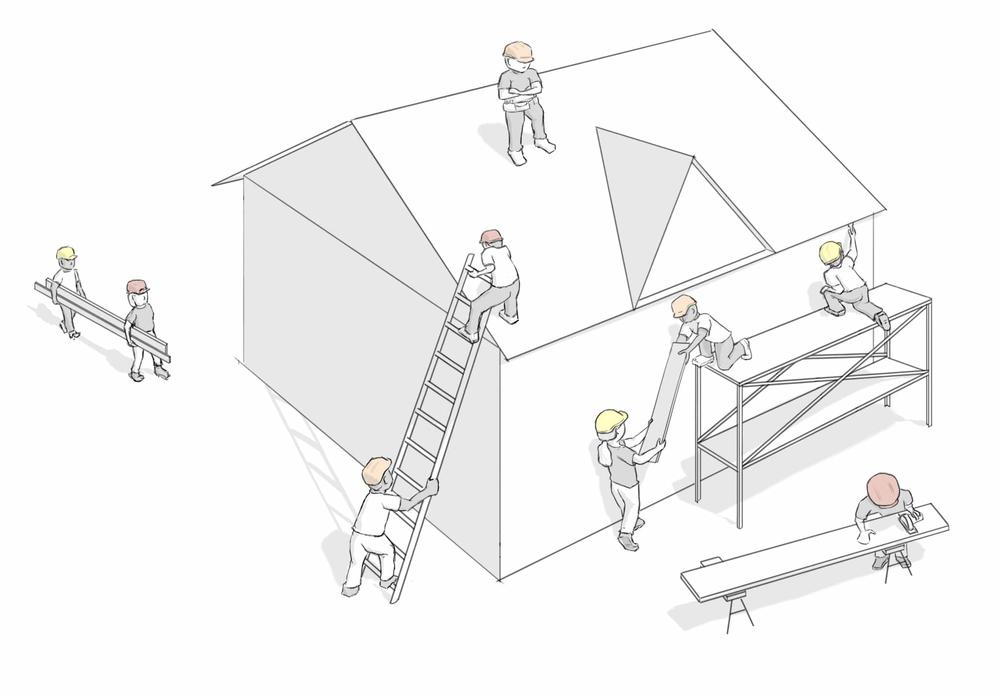 The mission of Digital Services Georgia (DSGa) is to make people's interaction with Georgia state government frictionless, empowering, and symbiotic!
Since our inception, we have advocated for government to prioritize constituent-centric services and make data-driven decisions. Every piece of our work impacts the lives of Georgians when they access life-critical information and services. Constituent-centric is not a strategy, but a culture that needs to be cultivated throughout government organizations. Digital services teams across every level of government need to be the catalyst to enable this paradigm shift.
Digital Services teams are at the junction of policy, technology, and constituent experience
In most cases government services are frustrating for people to navigate. Though intended to enrich people's lives, most services do not consider the human element when designed or developed. Whether we are considering transactional services (licenses, child support, filing taxes) or informational services (websites, call centers, chats) constituents aim to interact as fast as they can and move on with their lives. The evolution of any government service or program can be traced back to the legislature that created that service, the agency tasked to deliver and drive the service, the technology and processes that power the service, and ultimately the constituent experience which is the sum of the parts that make this service a success or failure.
The government's view of the service is policy and process heavy …
Constituent's View of Service - 2nd Image
… while the constituent's view of the service barely recognizes the policy. They are primarily focused on the experience:
Does this save a trip to a government office?
Is it intuitive to use?
Can it be trusted with sensitive information?
Constituent's View of Service - 3rd Image
Digital services teams work hard to ease this tension.
Teams across cities, states, and countries have shown great impact in making government services friendlier, usable, and accessible by fixing the dysfunction in the way services are delivered.
Constituent's View of Service - 4th Image
Introducing GovHub: powered by Drupal
Georgia is one of the few states to have a centralized web platform. This platform powers about 110 websites for state agencies and elected officials. However, the current Drupal 7 platform is eight years old and has fallen behind times in serving our constituents the way they expect to be served.
As the first critical step of our digital strategic roadmap, in Fall 2017, I announced our first flagship project: GovHub; a digital publishing platform powered by Drupal 8 and rendered by an atomic design system. The platform is being developed for consistent, modern, and compliant websites.
Consistency and trust: Single source of truth for content and design
People access state information via several channels and devices. If the information in one channel varies from that in another, organizations lose public trust. A single source of truth for content and design enforcing a consistent experience helps to establish that trust and control your organization's message.
Compliance: Adhering to best practices and standards
Unlike federal digital properties, state and local governments are not mandated to meet set standards unless they are federally funded. We plan to build a digital platform that complies to industry best practices for accessibility, security, development, and hosting. Unless states have established digital standards, this leaves a huge loophole for individual state agencies to de-prioritize compliance for their digital properties.
Collaboration: Built with the people
Successful digital initiatives hinge upon understanding the people we design and develop for. We need to base our development on more than just empirical research, data, and a few assumptions. How about building with the people we are building this for? Agency content managers who use the system back end daily and our end-users, Georgians who interact with digital properties. We plan to collaborate not only to understand their characteristics, needs, and challenges, but also to bring them in the conversation. Before we finalize decisions, let the people weigh in. An open collaboration project from the get-go!
The DSGa team is a lean startup within the state and depends on design and development partners to accomplish large projects. We worked tirelessly over a period of eight months to procure pools of qualified vendors and conduct technical and content discoveries to kick off the project in June 2018.
We need to make sure our underpinnings are solid. The bedrock of our digital properties is consistency of constituent experience. When content is fragmented and stored in multiple places, it is impossible to manage consistency. Variations of a single message contained within siloed channels, disconnects between vocabulary, terminology, and visual brand create barriers between government and constituents; resulting in frustration and friction.
Dwindling Trust
Per the Pew Research Center's December 2017 survey people are growing distrustful of government more than ever. The private sector analyzes consumer interactions on a scale of frustration to delight. Interactions with government are almost never delightful due to the nature of interactions: taxes, speeding tickets, child support, etc. State agencies spend additional resources and employee hours working with constituents who are frustrated and hard to satisfy.
We can attempt to fix this if we create a low to none friction experience for people. For those who wonder, "What's the ROI? What does government gain from investing in a better experience?"
The answer: trust. We gain people's trust and confidence. If they feel confident to interact with us digitally, our call volumes drop, foot traffic reduces, and efficiencies rise. The cost savings from moving interactions from physical space to digital become the catalyst for investing more in digital products.
"In government, information and services are our products, and trust is our currency."
People-First Approach; Build With the People
When you decide to build with the people, you have to account their feedback in every decision. We spoke with Georgians across the state to update our understanding about how they access services and the challenges they face. In a nutshell, how can we build trust and gain their confidence? Our distilled findings gave us a clear north star:
People need an indicator to know they are interacting with a trusted website before they share sensitive information.
Government needs to be more approachable than official.
Constituents do not care about the bureaucracy. Agencies, departments, and divisions are invisible to someone who needs help. They look for services, not organizations.
Constituents expect a consistent (visual and functional) experience.
Even though agencies are tasked with individual missions that vary from each other, for constituents it is still the State of Georgia.
A Unified Design System
A key finding from our discovery was that constituents look for legitimacy for official websites. It's important for constituents feel confident interacting with state government websites, and one of the several ways to build trust is visual consistency from using a cohesive design system. The DSGa team worked with our branding and design partner to create an enterprise brand that reflects Georgia's values. We are creating a design system which will serve as a:
Branding guide
Style guide
Markup library
Component library
Using Pattern Lab and the atomic design principles, we are creating pattern driven constituent interfaces to build accessible, mobile-first experiences. Reusing these interfaces will lend the needed visual and functional consistency across the platform and external websites and web applications. By breaking down components into basic atoms it's easy to see what parts of the site can be reused, and how they can be mixed and matched to form additional interfaces and series of pages.
We plan to create a documented system which can be implemented at scale for websites and transactional applications.
The Digital Center of Excellence
The Digital Center of Excellence (DCoE) program consists of contribution teams across state agencies, DSGa members, educational organizations, and industry thought leaders. We meet to discuss digital best practices and propose standards for responsive, security, performance, and accessibility. These standards are for all digital properties across the state — not just the platform websites.
Content managers, project and program managers, security experts, and accessibility champions from across multiple state agencies gather with our team to discuss standards, guidelines, and best practices that should be a part of our digital standards. We have detailed discussions with content managers to understand what is helpful and harmful as they create and publish content.
Stay Tuned
We cannot carry out our mission in a vacuum. Digital services teams should not be expected to deliver like firefighters that descend to extinguish infernos; but instead should be the architects of well planned and implemented sprinkler systems along with the appropriate education of fire codes and safety. This digital platform is our blueprint to map out state services at the information layer. Redesigning state services is not far on our digital roadmap. If you want to participate in this project in any capacity, contact the Office of Digital Services.
To enhance constituent experience and make interaction frictionless, we need to test our theories, designs, and implementation at every opportunity. By capturing feedback, and adapting our work we embrace a culture of designing and building with the people; both internally and externally.
We are solving complicated problems and it takes a village. I am aware that we may not have all the answers. Starting out we may have more questions than answers, but that is exactly why we are building this with the people. Every interaction with constituents and research data, brings us closer to making informed decisions and finalizing a framework to tackle these problems.
Did you find what you were looking for on this page?