With the People: Introducing pilot.georgia.gov
Georgians and IDEO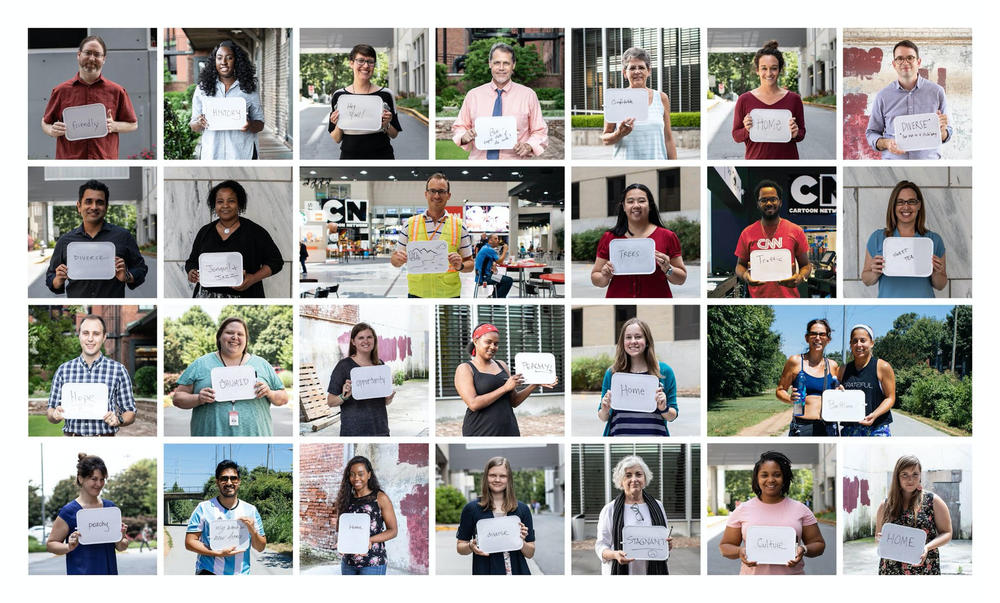 The Digital Services Georgia (DSGa) team is excited to launch pilot.georgia.gov.
Far more than a facelift to the existing Georgia.gov website, this pilot site represents a modern way of managing content and interactions.
Pilot.Georgia.Gov Home Page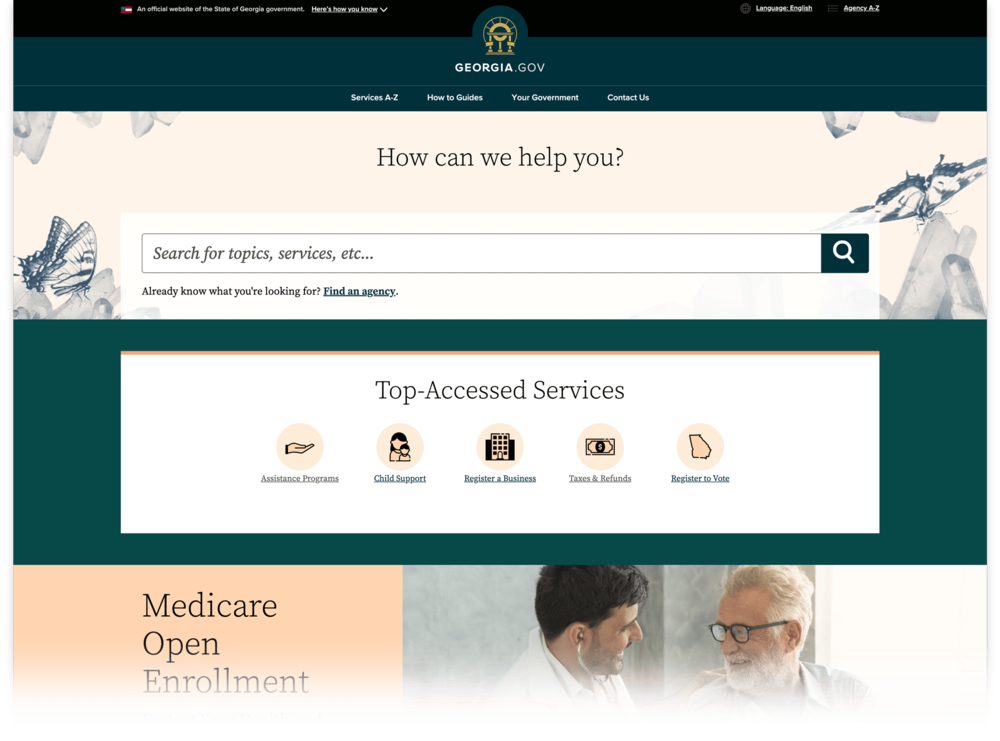 Currently in beta testing mode, the site offers an early glimpse at a larger digital transformation project the DSGa team has been working on with design, content, hosting, and development partners.
This project, named With the People, was initiated in 2018 and promised to include real users at every step, from content managers and agency stakeholders to our constituents who interact with the state's digital properties on a daily basis.
This pilot site gives us our next opportunity to conduct rigorous usability testing, including in-person conversations, remote testing and observation, focus groups, and surveys with constituents.
The pilot site and the web publishing system are designed based on initial research and ongoing usability testing with our end users (Georgia constituents) and content managers (state agency staff). 
But we can always make it better. Digital projects don't end at launch.
A service-forward approach
Previous iterations of Georgia.gov featured helpful, thoroughly researched content, primarily in the form of temporary blog posts and a static content type called "Popular Topics." But that information could often be difficult to find outside of search.
Pilot.Georgia.Gov How-To Guides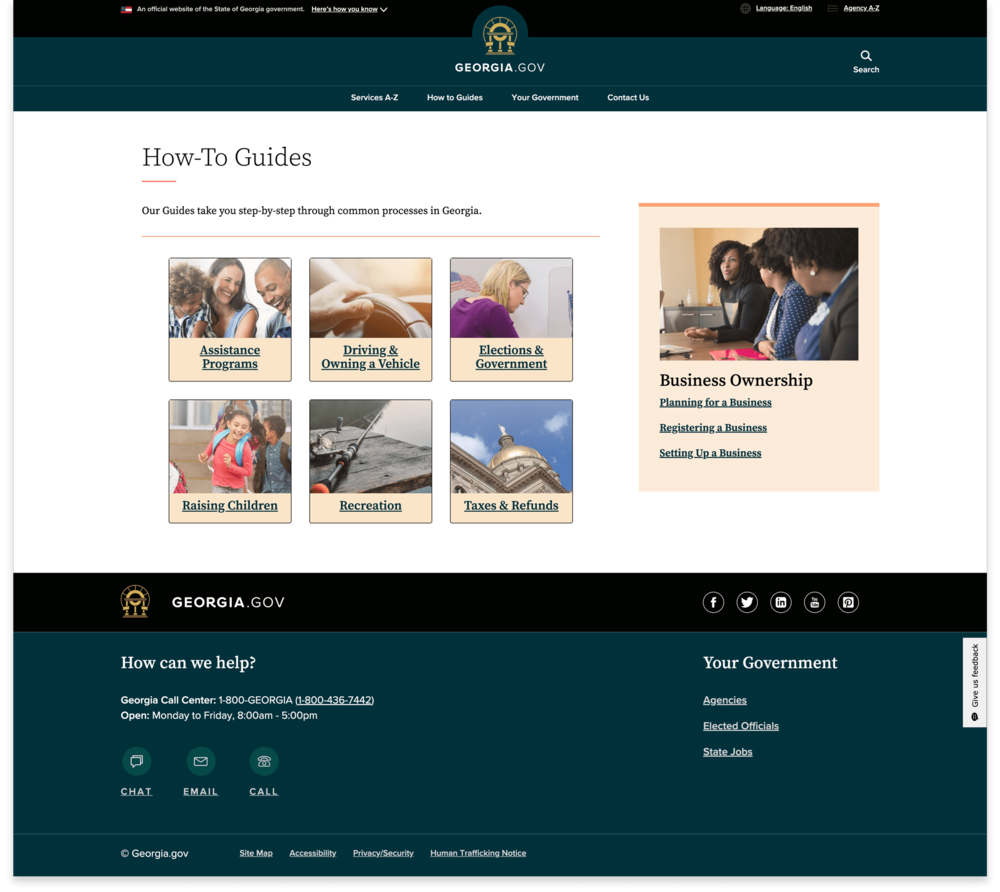 While we could introduce cross-agency, multi-step processes —  such as moving to Georgia or starting a small business — in Popular Topics, the blog was really the only place for the nitty-gritty details. Siloed content reflected the often siloed nature of organizations.
The goal of the new Georgia.gov is a service-forward approach that answers Georgians' most common questions, connects them with appropriate agencies, and prepares them for the next step in their journey.
Through an analysis of historical data and conversations with agencies about organizational and constituent needs, the DSGa team identified about a dozen of the most common scenarios that cause Georgians to interact with the state government. The next task was comprehensive cataloging of agencies and services relevant to these scenarios.
Then came the challenge of creating an information architecture that's intuitive and easy to navigate — even for the crisis user.
This is especially important since data revealed that roughly 1 out of every 5 visitors to Georgia.gov comes for an urgent issue such as SNAP benefits, custody issues, or restraining orders.
DSGa's designers and content strategists developed and debated various organizational structures. The team relied on user research and existing case studies to weigh the pros and cons of each approach.
Pilot.Georgia.gov - How Do I Apply for SNAP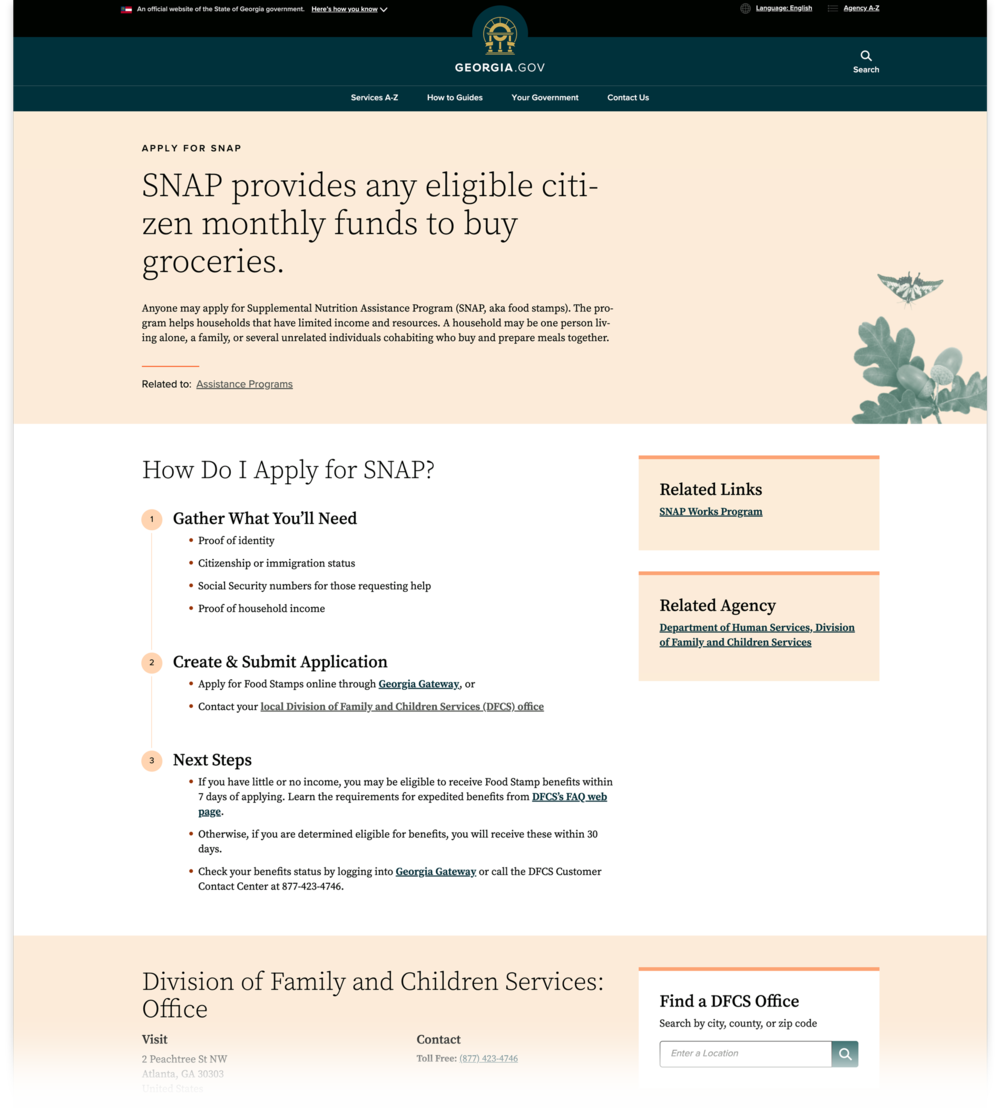 In the end, we decided on a structure to address multiple types of users: categorized flows for people who are less familiar with government services, and complete directories and content that can stand on its own for those who know what they're looking for.
The Georgia.gov pilot features how-to guides — based on established scenarios — that incorporate related services, provide context, and outline cross-agency processes.
A new content type, Service pages, walks users step-by-step through a government service. It provides the necessary documents and prepares Georgians for what comes next.
Content development required a collaborative effort. DSGa worked with agencies to develop the site's factual content, ensuring a single source of truth across the GovHub platform. We determined how to best use Drupal 8's content syndication feature. Content sharing between Georgia.gov and agency websites means information stays up-to-date, even if forms, contacts, or laws change.
The result is a Georgia.gov that better prepares Georgians to interact with state agencies. Its aim is to make accessing government services understandable and seamless.
A new visual identity based on constituent research
DSGa partnered with IDEO, an award-winning global design firm that works on a variety of digital and physical projects to create a positive impact through design. With IDEO's native "design thinking" approach, DSGa worked closely with stakeholders within state agencies and Georgians representing different parts of the state and different ways of life.
Our design research team traveled hundreds of miles across the state to understand what Georgians expect from their government and how the look, feel, and content of a digital experience might impact the delivery of services.
We learned several things from these conversations, but the key takeaway is that our constituents expect a digital experience from government that is comparable to the private sector. Based on the research, IDEO synthesized a visual identity and a brand and style guide for the state.
IDEO's Georgia state brand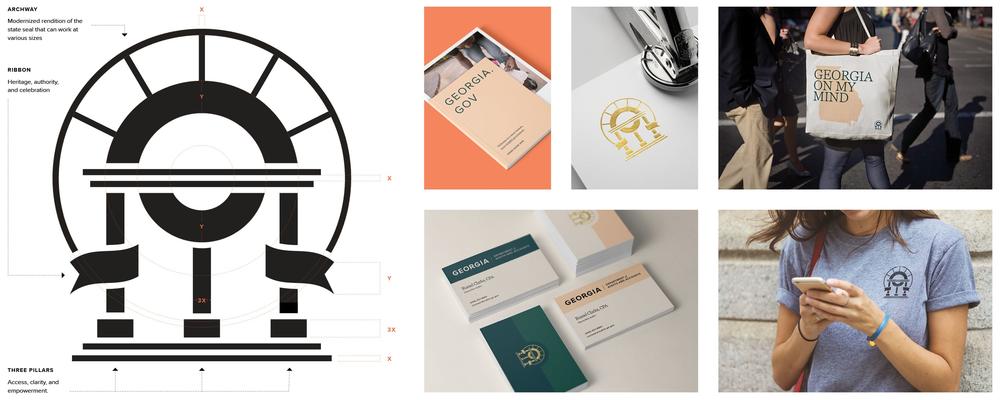 Read IDEO's case study: Designing a Modern Digital Platform for the Constituents of Georgia
GovHub: A web publishing system that connects content from a single source of truth
DSGa partnered with Lullabot, an award-winning strategy, design, and Drupal development firm that specializes in complex and large-scale system engineering projects. The teams worked together, from creating a publishing strategy to developing GovHub. GovHub is the state's new web publishing system that manages hundreds of thousands of content items for state agencies and elected officials.
Powered by Drupal 8 and hosted on Acquia's Enterprise cloud platform, this system benefits from all the technological advancements of Drupal and the stability, scalability, and security of Acquia.
Based on constituents' usage patterns, DSGa worked with the Lullabot content team to create several modern content types for state agency staff to use to publish their information. By structuring content into pre-designed content types, information becomes fluid and moves easily between multiple outlets across GovHub to provide users and agency staff alike with a single source of truth.
These content items are curated and offered on Georgia.gov without needing to duplicate or recreate content.
Orchard: A systemic design approach 
While IDEO created a unified brand and a visual style guide for the state's 90+ websites, Lullabot extended the styles to create a pattern library using Pattern Lab giving birth to Orchard, Georgia's design system.
DSGa then partnered with Jason Pamental, a digital strategist, author, and industry leader in web typography. Jason helped us implement a whole new typographic system for Orchard. Leveraging dynamic typographic scale using variable fonts, the Orchard design system enhances readability across channels without affecting site performance.
IDEO color palettes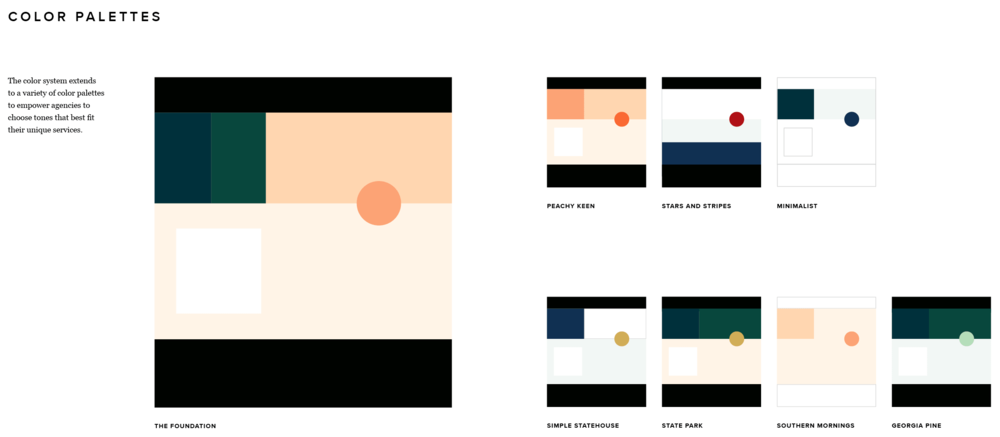 Read Lullabot's case study: Building Georgia's Digital Future
Digital is not about technology, it's about the people
It takes a village to build a system. DSGa has been fortunate to partner with several renowned organizations and decorated individuals to build Georgia's next digital platform.
This project has been a true embodiment of "We the People." The voices of Georgians have influenced our design, strategy, and development practices. All said and done, it is the people that matter, not technology. We share the philosophy articulated in the digital action plan published by Ontario, Canada:
"While the delivery is digital and technology is foundational, the mantra for this community is the end-users — the people — both internal and external."
DSGa welcomes any suggestions or feedback to help us make this platform a better solution for Georgians. 
If you notice something while looking through pilot.georgia.gov, leave a note in the feedback form on every page.
Pilot.Georgia.gov - How Can We Help You?
Director of Outreach Yen Tang
Or if you'd like to participate in focused usability studies DSGa will conduct, please contact our Director of Outreach, Yen.
Did you find what you were looking for on this page?