New Challenges of Content: Your Content Strategy
Question! What's the best thing you can do for your content right now?
Answer! Write down a strategy.
It's true. Research at Content Science and Content Marketing Institute has found that when organizations document a vision and strategy for content, they are much more likely to report success with content. Yet, only about one-third of organizations do it. They're the Jedis of content. To help you join their ranks, this article walks through how to approach a content strategy.
What is content strategy?
We covered what content is and why it's so important to you as a government agency in this article. Now, let's turn to what content strategy is. 
A content strategy is a high-level and long-term (a year or more) plan for your content. It typically factors in
Your agency goals.

A vision of what you aspire content to be.

An accurate understanding of the current state of your content and context, including your user or audience needs.
A content strategy document often consists of elements such as
A summary of the goals and future state vision

A summary of the current state

A set of guiding principles

A set of recommendations

A roadmap
Content strategy sometimes becomes confused with content best practices. Best practices, standards, guidelines, and the like are critical. But they are not a strategy. A strategy is differentiated by aligning content with your goals and context. For instance, using plain language is an excellent tactic to make your content accessible and inclusive. But using plain language, alone, is not a strategy.
So let's walk through how you can move from a collection of tactics into a content strategy.
How can a state agency define a content strategy?
Let's walk through a process that I've found useful in working with a range of organizations, including federal and state government.
Content Strategy Phases

Key stages of defining content strategy
This process starts with defining a vision, then moves into deep analysis of the current state, and ends with synthesizing the information into a strategy document.
In reality, these stages might overlap. You might adjust your vision while conducting analysis or do some follow up analysis as you flesh out your strategy. That's fine as long as you have these three phases covered.
1. Define Content Vision
This stage lends itself well to engaging your team and stakeholders. You can hold a working session to discuss items such as
Content problems to solve

Other problems that content can help solve

Agency priorities to address (including new or shifted priorities)

Desired agency outcomes

Ideal future state of content / website / digital experience
If you have user personas or journeys, review them as a group and refer back to them as you discuss the items above.
And here are two specific activities you can do during the session. You can do these in one group or multiple groups and then discuss as a larger group.
What are 3 words to describe the way you'd like our content to be in the future? Why?

Fill in the x and y of this statement:





By

x

time, our content will be y.
These activities will give you great source material for a vision statement in your content strategy document. And when your team and stakeholders see their feedback reflected in the vision statement, they will be much more motivated to make it reality.
Now that you have looked ahead to the future, it's time to gain perspective on the present through analysis.
2. Analyze Current Content State
Content analysis is work, but I've never heard anyone who has taken time to do it regret it. 
Analysis Methods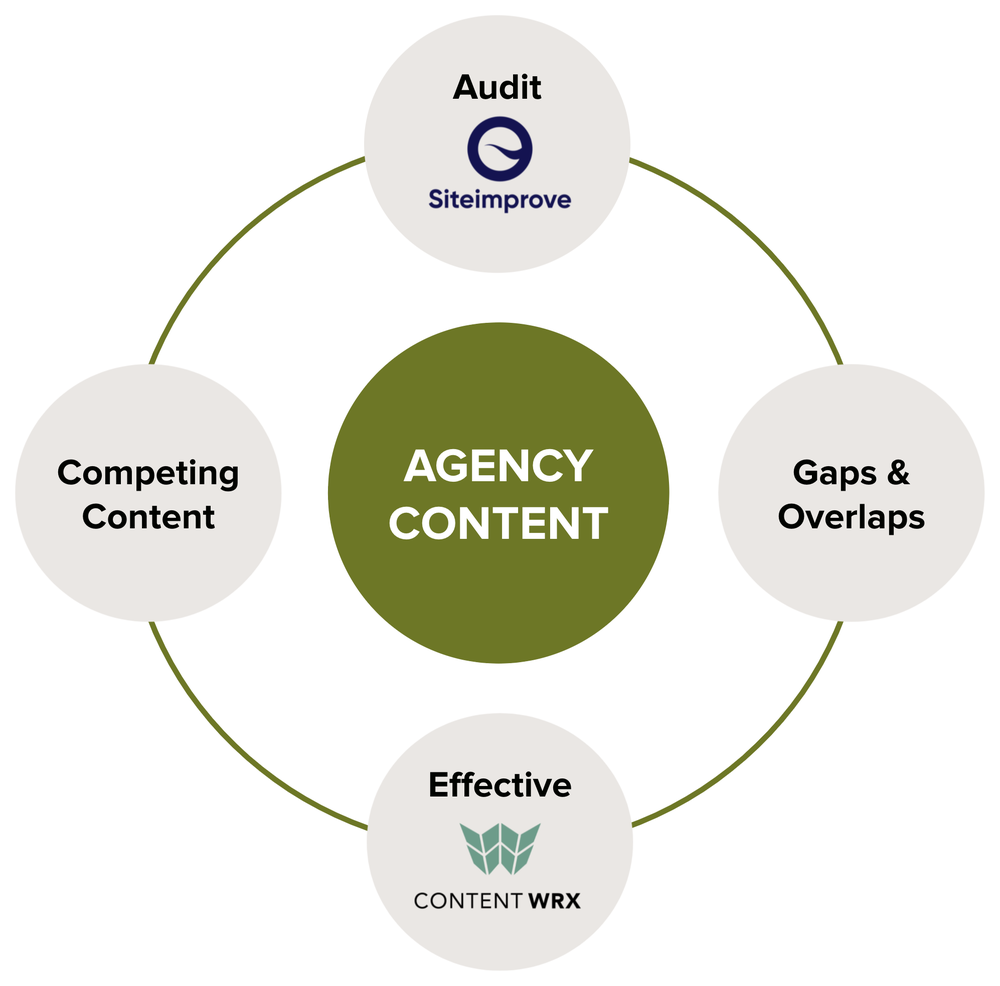 Good content analysis taps you into a Jedi-like sixth sense. You will see what no one else has. Usually, you will confirm some of your expectations and find some big surprises — good and bad ones. Content analysis sheds light on a range of issues such as
The extent of problems or opportunities discussed in the vision stage.

User perceptions of content, such as its findability and effectiveness.

How content currently performs.

Alignment of content with user needs, relevant legal and brand standards, and relevant best practices.

Future-readiness of content, such as for discovery by search and delivery to channels beyond the website.
You can tap into many analysis methods. I'm highlighting the four I frequently find useful.
Content Audit
Inventory and assess content against standards. 
This might sound daunting, but your Siteimprove tool makes this achievable. The tool accelerates creating a report of what content you have and checking alignment of content with a variety of quality, accessibility, and performance standards.
Effectiveness Evaluation
Assess content impact on users / citizens.
Your Siteimprove analytics, tools such as ContentWRX, and feedback from users through chat, social media, online forms, and more can accelerate understanding how people use and perceive your content.
Competing Content
Identify opportunities.
This is my favorite part of analysis. It's all about comparing. How does the content you have compare to
What your users need to accomplish their top tasks?

Your agency priorities and aspirations?

The content already available from competing websites or sources? 

Important quality, accessibility, and performance standards?
This is where you start to see where you have too much content, not enough content, and content that no longer fits. Your ideas for strategy will start to flow.
As you wrap up the analysis, I suggest reconvening your team or stakeholders to go over key findings, especially
Basic facts about the amount, format, and age of the content

Answers to questions that came up during the vision working session.

Assumptions or "hunches" confirmed

Surprises or unexpected findings

Key gaps and overlaps or redundancies
Your goal is to empower them with the newfound Jedi sixth sense. Align everyone on an accurate understanding of the current state. With that understanding, they will be more likely to support the strategy and to have realistic expectations for executing it. 
3. Synthesize into Strategy
Strategy is the art and science of developing a plan that balances a range of considerations, such as
What content opportunities should we act on?

What is content supposed to accomplish in which situations? 

What content types / formats and templates are most appropriate for the content purpose and context?

What topics should the agency continue to cover, start covering, and stop covering? 

What content should we keep, update, and delete?

How does the way content is organized, navigated, and searched need to change? 

 

How does the way content is structured and tagged need to change to take advantage of our technology capabilities or to meet standards?

How does the way content is integrated into our applications and interfaces need to change?

Do we have any special content capabilities or strengths that we're not using to full advantage?

How much content can we realistically sustain?

How quickly can we make the transformation from our current state to our future state?
As you balance those considerations, you can start to document a content strategy with the elements I mentioned above. I'll list them again, for good measure.
A summary of the goals and future state vision

A summary of the current state

A set of guiding principles

A set of recommendations

A roadmap
So, let's talk about recommendations. The recommendations state exactly what you're going to do. Here's a simple example with the recommendation and a supporting fact.
Content Recommendations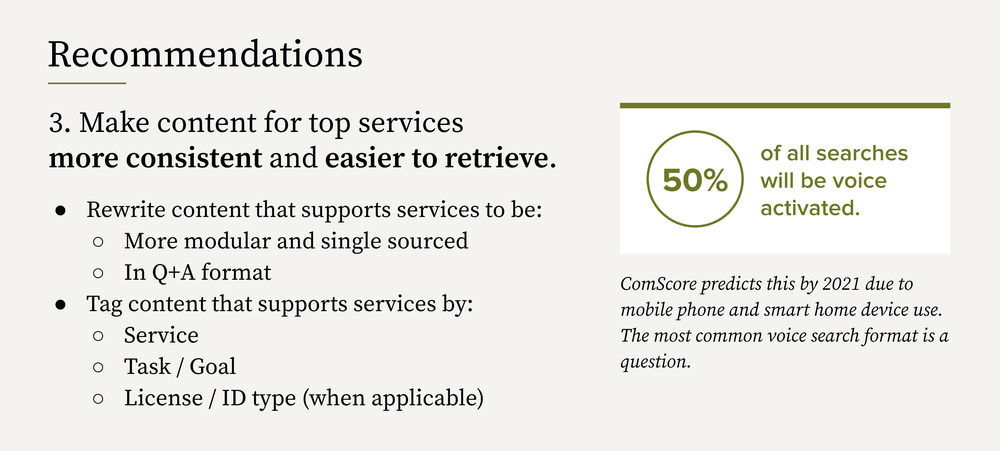 I find having three to five sections each with five to ten recommendations works pretty well. It's thorough but not overwhelming.
Lastly, let's turn to the roadmap. The roadmap visualizes how key recommendations can come together in a way forward. I'm sharing a simple example with three stages and key actions for each stage.
Content Roadmap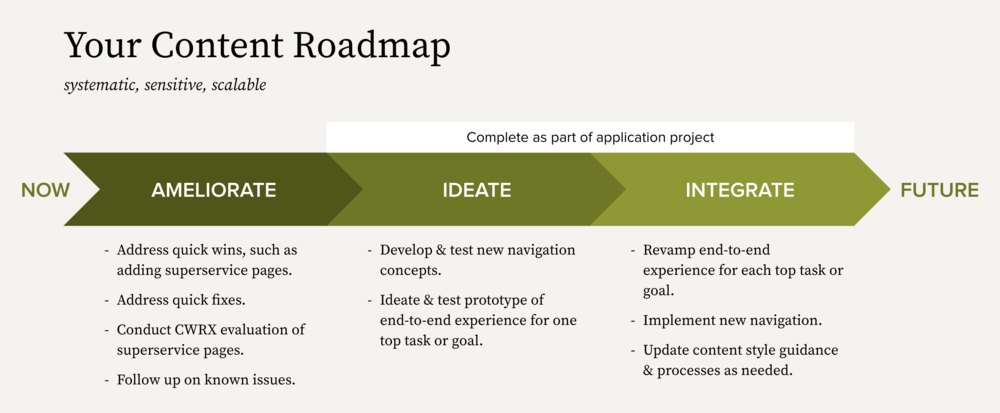 As you draft and finish the content strategy document, you can ask your team and stakeholders for feedback. The feedback likely will be helpful to you, and it will make the team and stakeholders feel engaged. After the content strategy document is complete, I suggest bringing the team and the stakeholders together to walk through it. If your agency is large, you might need to take it on a road show in multiple meetings.
While this article has covered much ground, it cannot cover every nuance of the process. So these resources are ready to help:
During the process of defining a content strategy, you might wonder more than once, "Can we really make this happen?" I like those odds, as The Mandalorian might say. In the final article of this series, we'll discuss executing a content strategy with content operations.
Did you find what you were looking for on this page?