3 Lessons From GSMCON 2017 for Social Media Managers
Illustration: Taking notes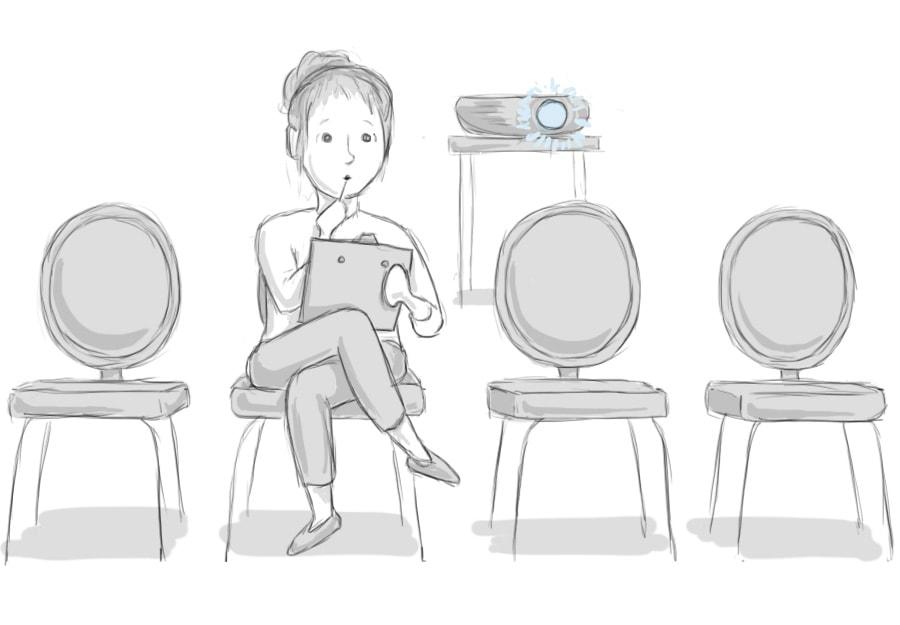 I just got back from attending my first Government Social Media Conference (GSMCON) in Dallas, Texas. It was a week packed full of talks, networking, and learning. Industry experts from Facebook and LinkedIn revealed how their platforms are evolving to include more government-specific features and we heard real-life case studies on how social media experts are creatively using their platforms to reach citizens.
Standout Sessions
Over the course of the conference, we heard from experts running social media accounts for cities, counties, and government agencies around the country.
GSMCON is a great way to stay present in the ever-changing world of social media. But more importantly, it's a networking event that brings together a group of people working in a niche (and often controversial) profession.
There's no way I could have covered everything I learned at the conference in one blog post. But, here are major points from three of my favorite sessions that might help you in your social media journey.
Accessible Social Media for an Inclusive Community
If you follow our team, you know accessible practices rest at the core of what we do. In fact, not only is it one of our 3 guiding principles for product development, but accessibility is part of everything we do — never an afterthought, always a forethought.
So, I was really excited when I saw the conference agenda included a session on accessible social media content. Emily Allen, from Maryland's Emergency Management Agency, and Cecilia Warren, from the Maryland Department of Disabilities, provided simple, easy ways to make social media content accessible. Here are my takeaways.
Accessible content benefits everyone.
It's not just those born with disabilities that need accessible content. Accessible content also benefits those with cognitive disabilities, underserved communities, non-native speaking individuals, and the aging population. In fact, most of us, at some point in our lives, will benefit from accessible content.
Social media must-haves.
All of your social media sites should include a way for users to get in contact with your agency. Social media content should be written in plain language and follow best practices for digital accessibility.
Test the accessibility of your social media.
Just as you test the accessibility of your websites, it's equally important to test the accessibility of your social media content. It's not enough to assume your content is accessible. You must test it on a desktop and mobile device. There are free, easy-to-use tools to help you test on multiple devices. NVDA (NonVisual Desktop Access) is a free, downloadable screen reader to test accessibility from your desktop. If you have an iPhone, you can turn on built-in tools in your Settings to help you test the accessibility from a mobile device. Even on social media, images should have descriptions, videos should be high quality and have captions, and hashtags should use PascalCase for easier reading (#HappyBirthdayGeorgia versus #happybirthdaygeorgia).
A little more on mobile accessibility testing
If you want to test the accessibility of your social media using an iPhone, just open up your Settings. Once there, click on the General tab and you will see the Accessibility option.
Once you've found Accessibility, you will see options for Vision, Interaction, Hearing, and Media. Familiarize yourself with all of the options and what they do before testing. Keep in mind, turning on some of the options will change the functionality of your phone.
Accessibility IOS
Facebook Live and the Role of Breaking News in Government
The City of Roanoke, Virginia, is killing it when it comes to Facebook Live. They're learning and adapting as they go, and doing a great job providing valuable content to their local citizens. They often use Facebook Live to break local news stories or report on severe weather before mainstream media outlets. Here's what they've learned:
Government can break news, too.
There is a place for breaking news in government. Presenting users with accurate, reliable content builds trust with citizens. It allows us to engage with users and educate citizens in new ways. And, if we are able break the news first, we have complete control over the message — preventing erroneous information from getting out.
It doesn't have to be pretty.
As government agencies, we often feel everything we do needs to be checked, rechecked, and checked one more time before it goes public. And most of the time that is best practice. But with breaking news, viewers aren't concerned with how pretty your video is, how you look, or the quality of the output. Users want breaking content as long as it's relevant and accurate. Remember, it doesn't have to be pretty … It's breaking!
Use caution when going Live!
Facebook Live can be a great tool. It allows you to interact with citizens and build government trust. But, it can be a slippery slope if not used with caution. A good rule of thumb: If it's controversial or if you have to question whether or not to go Live, you probably shouldn't. Don't Facebook Live content like protests, shootings, or dangerous areas. And, if you're planning to go Live for dangerous situations, ensure everyone involved is safe before launching your video. Be aware of your surroundings and put your safety above breaking the news.
Social Media Policy and Legal Requirements
On day two, the morning session kicked off with social media legal expert, Julie Tappendorf. Julie practices law in Illinois and spends her "free" time studying and giving legal social media advice to organizations around the country. Julie has expert knowledge and advice on a large array of social media best practices for government. I've listed my big "ah-ha" moments from the conference below, but you can find more on the legalities of social media by following Julie's blog, the Municipal Minute.
Social media needs to be accessible.
As of today, accessibility laws have not been extended to include social media. However, Julie believes when it comes to accessibility and social media, you should treat them both just like your website. Federal agencies must legally follow Section 508 standards for web accessibility and should make it a practice for their social media sites to follow the same standards. States have not been legally mandated to follow accessibility standards … yet. But it's coming and we should do all we can to follow guidelines and best practices that gives citizens access to all of our content.
Public servants are held to a higher standard.
More often than not, courts have ruled that Liking a post is the same as speaking it. So even if you don't post it, you are still held accountable if you Like it or show endorsement in any way. Even if you state in your About section that a Like does not constitute an endorsement, be careful. Teachers, police, firefighters, and government representatives are held to a higher standard when it comes to free speech and what we share on social media. A post that one person shares with racial undertones or illegal activity could demand severe disciplinary action when coming from a public servant.
Have an employee use policy.
It's important employees know what is and isn't acceptable when it comes to their personal social media sites. As a representative of the government, employees should portray themselves on social media just as they would in a professional environment. It's not hard to find someone's employer, so even if their job title or employer isn't listed, acting unprofessionally can demand disciplinary action. Employees have been fired for sharing inappropriate, derogatory, and profane content on their personal sites. Not only is complaining about your job or coworkers on social media terms for disciplinary action, but it is not protected under free speech and can be cause for termination.
It was helpful to hear from social media experts around the country, but it was even more impactful to meet and connect with great people. We shared our knowledge and talked about lessons learned and left thinking about more ways we can impact the lives of our citizens.
Did you find what you were looking for on this page?